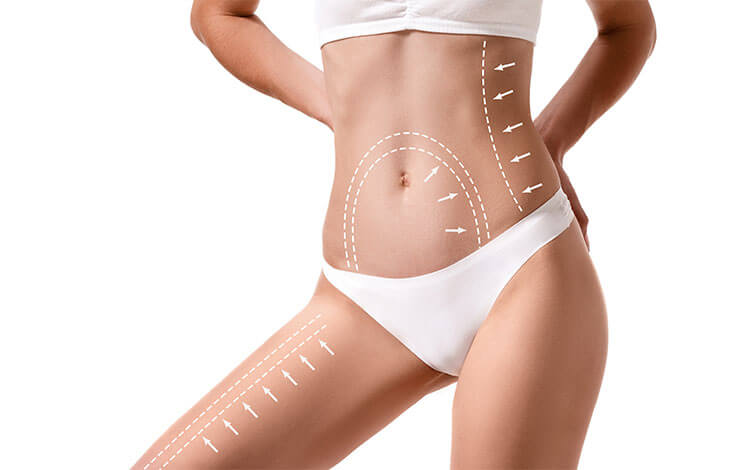 Liposuction – to obtain that ideal body shape!
Are you finding it hard to achieve that perfect body shape and are frustrated, even after being honest with diet patterns and an exercise regime? Well! Removing rigid and stubborn fat deposits on the body can be a frustrating affair.
If you find yourself in the same situation, there's nothing to worry about. You have reached the right place and are in safe hands. Fortunately, Liposuction or liposculpture, work miraculously to achieve a toned body. At KA Surgery, Dr. Kouroche Amini, a master at liposuction plastic surgery, helps you complete your weight loss journey and obtain a more proportionate body.
What is Liposuction?
Liposuction, is a famous form of plastic surgery used to shape the body and eliminate unwanted fat
Liposuction can get rid of fat that exercise or diet have not been able to move
Performed under special anesthesia, this surgery works well in contouring the body
It is important to note that, liposuction is not a treatment performed for weight control or obesity and it does not play any role in removing stretch marks or cellulite.
Areas Liposuction is performed in
Chin and Jawline
Lower abdomen
Hips or Love Handles
Inner thigh and Outer thigh
Waist
Arms
Back
Becoming more popular in this genre are –
Liposuction at KA Surgery
The complete liposuction procedure is carried out by Dr. Amini
Every surgery is specialized, depending on needs of the patient
The process might take anything between 1 – 4 hours (depending on the amount of fat and areas to be focused on)
Liposuction majorly is an outpatient procedure, at rare scenarios the patient is required to stay overnight at the clinic
Liposuction – Post surgery expectation
It is mandatory to wear special compression garments in all the cases of liposuction
Bruising and swelling can be high for the first three days post-surgery and gradually dissipates within the next weeks
You can shower, but as instructed by the surgeon
Work can be resumed within 3 to 10 days post-surgery
During morning time some discomfort can be experienced, but it wears out as you begin an active day
It is prohibited to lift heavy objects or do strenuous actives for at least three weeks
The stitches on the incision are removed within 7 days of the surgery
Results of Liposuction
Liposuction essentially has long-lasting and permanent effects. Once the fat cells are removed through a liposuction plastic surgery they do not come back. But the remaining fat cells in the treated area have chances of growing and expanding. Hence, it is highly recommended to follow a healthy lifestyle, with a balanced diet and exercise, to retain the effects of liposuction for a lifetime.
What is Liposculpture?
Often confused, "Liposuction and liposculpture" belong to the same cosmetic family but have different goals. The basic difference between these two procedures is that Liposuction is used to remove fat from the overall body, while liposculpture aims to achieve a more refined body structure and shape.
Liposculpture fundamentally is a more polished version of liposuction. It is a great technique to lose weight from specific areas and not from anywhere else. Liposculpture is also used in reconstructive surgeries for scar assessment and even breast augmentation procedures after breast cancer to enhance shape of the breast.
This is done by using the fat that has been aspirated and after having prepared and purified it, to reinject the fat in a part of the body that needs to be corrected.
This process is called lipofilling or the injection or free fat graft injections
Short Procedure of Liposculpture
The procedure is carried out under local or general anesthesia
Step two includes making tiny incisions to remove fat deposits from the body, using thin metal tubes or cannulae
Dr. Amini, uses a special syringe or mechanical suction pump to remove fat from areas that need to be contoured

Liposculpture – Post Surgery Expectation
It is an outpatient procedure, where the patient rarely needs to stay overnight at the hospital
The patient may initially feel pain, numbness or discomfort
There are risks like infection, swelling and bruising associated with liposculpture
The patient can resume daily activities normally after a few days

Results of Liposculpture
Gives a more contoured body
Helps parts of the body to have more shape and contours
For continued results, it is important to follow a routine with a balanced diet and regular exercise

Benefits of Liposculpture
Accentuates specific body parts
Gives a perfect body shape
Benefits of Liposuction and Liposculpture at KA Surgery
Personal Attention
Specialized and Personalized surgery
Extensive experience, with hundreds of successful surgeries
Complete health investigation
Prior goal and results assessment with Dr. Amini
Quality service and state of art facility
Reasonable Pricing
Costing
Like every other medical treatment, liposuction consists of different factors and changes case to case. Components mentioned below roughly make to the total cost of the surgery:
Medical tests
Surgeon Fees
Clinic charges
Disposable
Anesthesia
In some cases, insurance can cover costs of the procedure.
Dr. Amini will guide and help with the paper work.