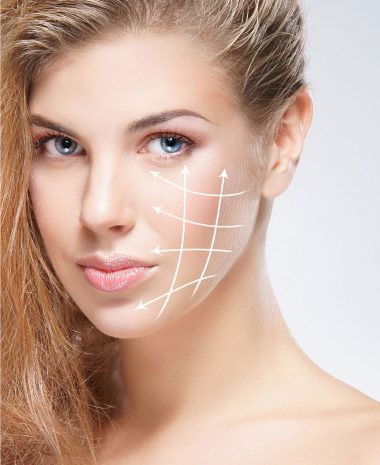 Who doesn't want to look like a celebrity? Well, Derma Fillers have made it easy to wipe off signs of ageing, making your skin look young, fine, firm and nothing less than a celebrity. As time passes, creams only seem to work on the texture of the skin. But to restore elasticity and volume, derma fillers are a great treatment. Dr. Kouroche Amini, at KA Surgery has years of experience in derma filler injections treatment, providing unbelievable results.
As time passes, our face naturally tends to lose subcutaneous fat. As a result, facial muscles now work closer to the skin surface, producing fine lines and prominent crow's feet. Minimally invasive, derma fillers are injected into the skin, to do a miraculous job of rapidly reversing time. Derma fillers primarily help reduce the signs of ageing by fading facial lines and restoring volume and fullness. At KA Surgery, the complete treatment is taken care by veteran, Dr. Kouroche Amini.
What Can Derma Fillers Do?
Derma fillers are a revolution in the technology used for rejuvenating and enhancing the quality of the skin. It is a powerful and safe formula widely used around the world.
This is what derma fillers do to make your skin look young and radiant –
Plump thin lips
Improve the appearance of recessed scars
Reconstruct contour deformities in the face
Decrease or remove the shadow of the lower lids
Soften facial creases and wrinkles
Enhance shallow contours
Lighten acne scars
Diminish crow's feet at the corner of your eyes
Fill hollow lines
Restore lost volume
Types of Derma Fillers
Hyaluronic Acid based Fillers
Calcium Hydroxylapatite based Fillers
1. Hyaluronic Acid
Hyaluronic acid fillers are popular amongst dermatologists and plastic surgeons as the ingredients are natural and softer. Hyaluronic acid is basically a natural substance found in the skin, and has the spectacular capacity of holding vast amounts of moisture. Once injected, this substance with time boosts the tissues, replenishing skin, making it look and feel healthy.
How Does Hyaluronic Acid Filler Work?
Hyaluronic acid is known to be a naturally occurring complex sugar in the body, which has the capacity to produce volume, elasticity, structure and moisture in the skin. As years pass, the skin tends to lose naturally-produced hyaluronic acid, affecting bones, muscle and fat pads, resulting in a change of facial shape. With time, the loss of hyaluronic acid also makes the skin look dull and aged, with visible folds and wrinkles.
To deal with such skin problems, derma fillers containing a smooth gel of hyaluronic acid are injected in the skin to recover the loss. The treatment is promising and fills space improving wrinkles and folds.
Types of Hyaluronic Acid based Fillers used at KA Surgery
Dr. Kouroche Amini only uses Swiss medic and FDA approved fillers
Allergan™ fillers products: Juverderm® range and Juverderm®Vycross® range (Hydrate, Volbella, Volift and Voluma)
Merz™ fillers products: Belotero® range (Hydro, Soft, Balance, Volume and Intense)
Areas Hyaluronic Acid based fillers can be used for maximum results
Lips
Chin
Cheeks
Temples
Nose
Jaw lines
Forehead
Hands
2. Calcium Hydroxylapatite based Fillers
Calcium hydroxylapatite* is a mineral compound found naturally in human bones and is often used for the following –
To enhance nasolabial folds, frown-lines and marionette
To improve volume of cheeks and other facial silhouettes
It also improves volume and facial degeneration of skin, which can occur in HIV-positive patients with certain routine medication
*The most famous brand used for Calcium Hydroxylapatite based Fillers is called Radiesse®.
Radiesse® Filler
Radiesse® filler is another addition to non-surgical derma filler injections. It is injected in the skin to improve the appearance. Dr. Amini uses a small needle to place the filler under the skin, and results are visible in a single treatment. Radiesse® like Hyaluronic acid is used to fill both fine lines as well as diminish deep wrinkles.
In fact, the most important benefit of Radiesse® is its ability to boost the production of collagen in the skin. Additionally, it also fills out winkles and pumps up the skin. This derma filler, once injected, gives instant results, and with time Radiesse® further stimulates collagen, making the skin look young and full of life.
Areas Radiesse® Can Be Used for Maximum Results
Nasolabial folds
Cheekbones
Jaw line
Chin
Cheeks
Temples
Hands
Advantages of Derma Fillers
Derma fillers are budget friendly and instant skin treatment
Pumps up the skin
Gives natural looking results
The turnaround time of results is low
Long lasting, up to one and a half year
Advantages of Hyaluronic and Radiesse® fillers at KA Surgery
Competitive pricing
10 plus years of experience in derma fillers
Personal Attention to each case
Dramatic results
Costs
Costs depend on a variety of factors. We recommend that you visit Dr. Kouroche Amini at KA Surgery to understand every detail of the treatment and to obtain a final price estimate.