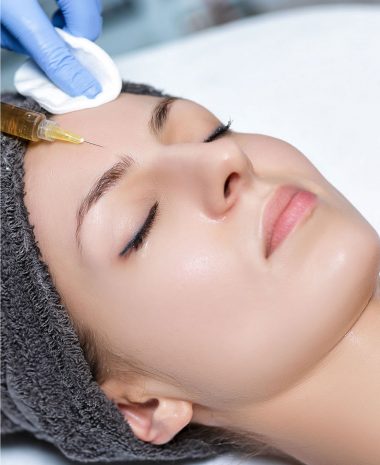 Every time you look into the mirror, do you feel that your skin looks dull, with visible fine lines and signs of ageing? Or are you worried about losing hair before time and there is nothing much that you can do about it?
If you find yourself in any such situations, Dr. Amini can effectively solve the problem for you, with a revolutionary technique in the world of Dermatology called PRP – Platelets. Success rates and the non-invasive nature of the technique make it the most desirable option.
Today, PRP is gaining popularity not only amongst celebrities and people associated with the show biz industry, but also amongst the general public, who wish to redefine their look.
More about PRP for Skin Rejuvenation
PRP (Blood Plasma Enriched with Platelets) also known as "vampire lift" is a non – surgical technique, derived from the patient's own blood
This treatment includes injecting the patient's own platelet–enriched serum to stimulate cells
PRP is obtained from drawing the patient's blood and is a 100% biocompatible technique, which promotes cell regeneration and results in skin rejuvenation
It is a no-risk formula and does not show any symbolic sides effects
The treatment creates a broad opportunity for skin rejuvenation
Procedure of PRP
The PRP skin rejuvenation session also known as a "vampire facial" begins with blood sample
Blood is drawn from the patient
In the next step, blood is centrifuged for a few minutes to clinically separate different components of blood to get PRP
The procedure developed and used by Dr. Amini shows optimal results
After recovering PRP from the blood, Dr. Amini uses fine needles to reinject it into the areas to be treated
The enriched plasma present in the syringe works towards tissue renewal and repair
Areas that benefit the most from a PRP treatment – 
peripheries of the eyes
frown lines
hand
neckline
scalp
chin
cheeks
crow's feet
lining of the mouth
PRP Treatment Is Ideal For – 
Revitalizing dehydrated skin
Improving dull complexion
Diminishing wrinkles and fine lines
Reducing Dark Circles
Reducing scars and stretch marks
Recovering loss of hair, volume and brightness
Repairing dry and damaged hair
Combination of PRP and Hyaluronic Acid for Skin Rejuvenation by Dr. Amini
Dr. Amini, believes in giving his patients cutting edge treatments that produce phenomenal results. As a master at combining PRP plus Hyaluronic Acid, Dr. Amini helps patients by making the perfect choice that leads to skin firmness and hydration, making it look young and vibrant.
Other Medical Reasons Dr. Amini Makes Use of PRP
Apart from skin rejuvenation and hair loss, Dr. Amini also uses the technique of PRP for the following:
Wounds
Burn Treatment
Reconstructive surgeries
Products used:
Dr. Amini only uses products approved by the Swiss Health Authorities and the FDA, keeping in mind the safety and well-being of his patients.
Benefits of PRP Treatment
Brings immediate brightness and a radiant effect
Enhances texture, elasticity and glow of the skin
Prominently reduces dark circles and fine lines
Lightens the appearance of acne scars
Initiates hair growth
Makes the hairline denser
Advantages of PRP Technique
100% natural and biocompatible formula
Helps achieve noticeable results without surgery
Has no side effects
No Allergy
The procedure is affordable
Cost
The cost of a PRP treatment depends on various factors, such as the areas to be treated and the number of injections and sessions required. If you wish to get an estimate for treatment, we suggest you meet Dr. Amini for a face-to-face consultation.
In Switzerland, PRP treatments are generally covered for rare cases. If your insurance provides coverage, Dr. Amini will assist you with all the paper work.