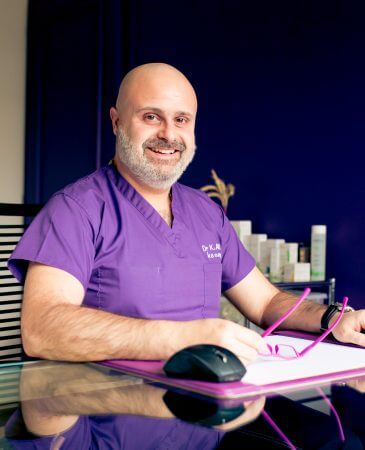 Swiss FMH Specialist in Plastic, Reconstructive and Aesthetic Surgery
Owner and Medical Director of KA Surgery
President of the Geneva Group of Plastic Surgeons since 2012
Doctor Kouroche Amini is a well-known and respected Swiss Plastic Surgeon, who was born and raised in Geneva, Switzerland.
He has always had the desire to be become a Plastic Surgeon and help others.
He studied and completed his Medical Degree from the University of Geneva with Honors in September 1999; which was immediately followed by two years of training in the Department of General Surgery in Neuchâtel, Switzerland.
After he completed a two-year residency in Orthopedic and Surgical Emergency in Nyon, Switzerland.
During this four years in both Neuchâtel and Nyon Doctor Amini was the head Surgeon of Wounds and Cicatrization of the Hospitals.
Afterwards, he integrated the Maxillo-Facial Surgery team at Geneva University Hospital for one year, before being nominated Chief Resident.
For 6 months he worked as one of the Chief Residents in the Hand and Wrist Department, then as Chief Resident in charge of the Surgical Emergency Room in Geneva University Hospital (HUG).
With this solid surgical background, Dr Kouroche Amini started his Plastic, Reconstructive and Aesthetic residency at CHUV, in Lausanne, in the department of Professor Egloff.
He trained for three years to be the Plastic surgeon under the guidance of Professor Egloff and Professor Raffoul.
He spent many months in the State-of-the-Art Burn Center at CHUV caring with passion and devotion for burned Patients. During his 3 year-rotation in Lausanne University Hospital, Dr Kouroche Amini was also in charge of the Wounds and Cicatrization field of the Department under Professor Raffoul.
Another area of great interest for Dr Amini during his years at CHUV was in the All-Body Contouring, in both Reconstructive and Aesthetic fields.
During his time at the CHUV, Dr Kouroche Amini was offered by Professor Pittet to join his Team in Geneva University Hospital.
He spent two fantastic years as an Advanced Plastic, Reconstructive and Aesthetic Surgeon.
In Geneva, Doctor Kouroche Amini, taught young surgeons with enthusiasm about new techniques in the fields he was keen to operate in: breasts, both in reconstructive (e.g. after cancer) or aesthetic, body contouring, face (eyelids, ears and lifting), as well as skin and wounds treatments.
In late 2010, Doctor Kouroche Amini decided to open his own practice in Geneva.
Since February 2011 he has worked as an independent Plastic, Reconstructive and Aesthetic Surgeon at Chemin de Beau-Soleil 12 in Champel, Geneva.
His years of education, training and experience in the art and science of plastic surgery, allows Dr. Amini to tailor his approach to his patients on an individual basis.
During his educations and 11 years of working in different hospitals, Dr. Amini visited many Colleagues and Peers around the globe in a number of renowned centers in the US, Australia, and across Europe.
Doctor Kouroche Amini is certified in plastic, reconstructive and aesthetic surgery from both European (EPOBRAS) and Swiss (FMH) Boards.
He has been the President of the Geneva Group of Plastic Surgeons since 2012 at the Association des Médecins du Canton de Genève (AMG).
He takes part in the Swiss plastic, reconstructive and aesthetic Society as auditor.
In November 2018, I had an operation in order to remedy an umbilical hernia and a diastasis recti, carried out by the surgeon Kouroche Amini.
At the very first appointment, the surgeon was already able to determine the diagnosis with the exact number of centimeters for my diastasis, which was later confirmed by the ultrasound. I was amazed and extremely impressed. The operation was a complete succees. After only one month, I was able to return to work and also look after my young children without any problems.
Based on my experience, Doctor Amini has a unique mixture of professionalism and, just as importantly, human qualities.
I thoroughly recommend his expertise and professional abilities. Health is our most important capital and with Dr Amini you will be sure of being in the best hands.
Nuria Bravo
25 Jan 2019
Bonjour, je suis la femme du plus heureuse du monde. Après que ma gynecologist ma's conceiller de voir Dr Amini pour enlever mes implants mammaires car ils sont venue dur comme fed caillots. Je 70 ans quand je suis aller à mon rendevous Dr Amini ma's mise très comfortable. Dr Amini ma's tout explique le dèbut jus'qua fin. Je Mrs suis enlever mes implants mammaires le 15 mai 2018 je avait pas mal du tout. Je vue Dr Amini tous les jour pendant 12 jours Il à changer lui mème le pansement je ne jamais vue ça. Je eu une check up complet prise du sang et electro cardio. Je voulou pas de lift car mon Docteur m'as dit que mes seins vont pas tomber il àvait raison. mes seins sont plus belle que avant je peu enfin me regardèr à nouveau dans une miroir. Samedi je avait les larmes aux yeux en voyant mes seins. Dr Amini va aussi corriger une ancient cicatrice sur le bas ventre et vraiment je peu plus attendre. Une très grand merci Docteur.Marlene
Wyngaard Marlene
16 Oct 2018
Le docteur Amini est un médecin exceptionnel, d un professionnalisme, d une disponibilité et d une gentillesse rares.
Suite à un cancer nécessitant une ablation du sein, le docteur Amini a procédé à sa reconstruction et le résultat est bluffant, je revis grâce à lui ! L équipe de la clinique est à son image, un IMMENSE merci à tous, je pense à vous chaque jour, vous m avez reconstruite !
Valérie KUHN
22 Jan 2018